A Bell Pest Services is proud to provide environmentally safe, quality South Jersey commercial pest control services to our business associates. We understand the value of your reputation and strive to help maintain and enhance your quality image for your customers and your employees. Consistent quality service is our guarantee.
We provide Your South Jersey Business with:
Custom Service
Pest Prevention
Quality Control
Our commercial service team is prepared to handle pest control for all types of business operations, large or small. We will work within a timeframe that will not disrupt your business no matter what your hours are. We also understand that your business cannot afford to be overrun by a pest problem at any time, which is why we offer a 24-hour quick response unit for any situations that may arise. We strive to build a business partnership by delivering quality commercial pest control service at an affordable rate.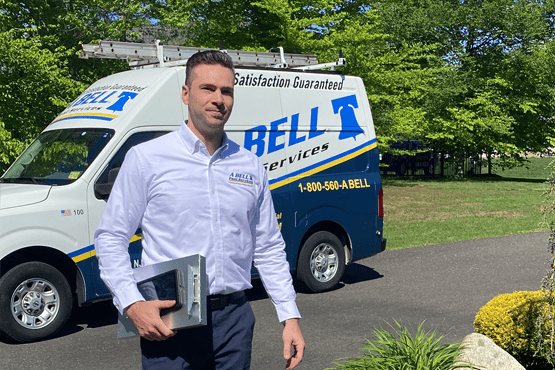 We value the relationships that we have built with providing South Jersey commercial pest control services in the following fields:
Restaurant

Food Processing

Hospitality

Health Care

Retail

General Office

Recreational

Warehouse

Customized Professional Service Methods

Least Toxic Methods – IPM

Monitoring Programs

Food Safety and Sanitation – A.I.B.

USDA / FDA Standards
Pest Prevention
A Bell Pest Services personnel receive extensive training in the most effective service procedures to remove pest populations and to prevent them from returning.
To ensure the right pest control treatment for your business, A Bell Termite & Pest Control has developed an Integrated Pest Management program that combines several strategies to anticipate and prevent pest activity and infestation.
Components of an IPM program may include education, proper waste management, structural repairs, maintenance, biological and mechanical control techniques, and pesticide application.
In setting up this program, our skilled service professionals thoroughly inspect your facility making careful note of conditions that could harbor pests or allow their entry into your establishment. Using the latest IPM techniques, we then physically remove these pests when possible and utilize non-chemical controls to capture or prevent their return. When necessary, the least toxic chemical controls are utilized to treat your problems.
A full program may use some or all of the following treatment methods:
bait products or liquids in cracks and crevices throughout your facility
direct contact treatment of exposed pests
insecticide dust application to void areas where pests have the potential to breed.
perimeter service using liquids, baits or granular products to stop pests before they can enter
your facility.
monitoring programs to detect pests before they become established within your business.
Quality Control
Detailed Service Reports
Sanitation Reports
Maintenance Reports
Monitoring Programs
Pest Site Logs
Back-up Personnel Always Available
ur technical expertise is backed by over three decades of experience and supported by specialized training programs to fit your business. At A Bell Pest Services, we understand the importance of good environmental responsibility and take all necessary precautions to protect your customers, your employees and your property from being harmed.
Our South Jersey Commercial Pest Control Services Are Hand Tailored To Each of Our Customers
---
A Bell is a family owned business that has been providing
same day service

on South Jersey commercial pest control services for over four decades.
Contact Us Today!

Or Call today for a no cost inspection of your home. 1-800-560- ABELL (2235)

Ask about our Million Dollar - Renewable Lifetime Warranty - Termite Damage Protection Plan